Sunday, November 23rd, 2008
---
10:06 pm
- losing it
i guess like most people i've been neglecting this place. so heres a bunch of photos and stuff from the last while.

last night was the holy cobras tape release show at the rocker room, a new venue in ottawa under the james street pub. the tape rules really hard.



beach blanket opened up. my mind!



i took some photos of andrew for his resume. acting resume? an application? okay headshots i guess.



heres some from davey's birthday party
male nurse



mothers children



wax attic



and the goodnight loving played here recently too. check them out.




i added a bunch of wedding photos to my website



and have some paintings up at the new canteen gallery.

as always theres tons more up on my flickr,
current mood:
tired
Wednesday, October 22nd, 2008
---
1:37 am
- dirty boots.
lifes been good!

saw statues again tonight, they are so good. you would like them if you dont already.




jay reatard played here a few nights ago too, it was seriously a good time.



chocolat from montreal opened.



and so did the sedatives.



andrew and sarah had a party. ian built a ramp in the basement, winter will rule with bowled corners. you can see it in the background of this photo of ben.



oh and here is a poster for a show my band fucked corpse is playing at on the 7th. get pumped. i made it.



also im working on some paintings for a group show at canteen gallery, so look out for that.

current mood:
tired
Monday, October 6th, 2008
---
7:54 pm
- pop your collar
pop montreal was on this past weekend and was a super awesome time with the weird punk nights that the pirates of the lachine canal and blue skies turn black folks put on every night...they were the only shows i went to and went super late, really ruled.

one of aids wolf's guitarists got sick so there was a jam with the remaining members and erin from the shearing pinx and steve from athletic automation/arab on radar, it was intense. they called it getting laids wolf.



steve also played a solo set under the name chrome jackson.



shearing pinx



brutal knights



career suicide



the chinese stars



us girls

7:38 pm
- hiding in a tree
sorry for the gap in posts! summer was just too fun. so many good bands and visits to places.

heres a few photos.

in algonquin park



barn on my cousins farm



inside

(
more stuff back here!
Collapse
)
current mood:
tired
Monday, July 14th, 2008
---
3:38 pm
- feedbacker
japan's boris played here last night, so heavy and mind blowing. so loud, my ears were ringing this morning even though i wore earplugs.

BORIS



michio from ghost was playing with them. it was a nice surprise.



as always theres more on flickr.

lacrosse to night then band jam, busy bee.

current mood:
excited
Thursday, July 10th, 2008
---
3:23 pm
- slip away
finally got around to uploading canada day photos, snailhouse photos, lover!, and did the photos from last nights sedatives/team robespierre/brutal knights/monotonix show last night. its been a busy week, but super fun times and good friends. everyone who was going on to the vermont/rest of the f yeah tour crashed at my house, it was pretty full with about 15 bodies all over the house, but it was a good time. everyone should check them all out. all the time. heres some photos!

the sedatives



team robespierre



brutal knights



monotonix



filling it up with grease.



the bus.



theres more up onflickr.

lacrosse tonight, then rrpp!
Wednesday, June 25th, 2008
---
5:29 pm
- wedding
went to a wedding last weekend in Rigaud at a sugar shack. it was nice to be out of the city and in the woods. i can't wait until i get up to the cottage.



it was awesome to have a reason to get fancy dressed. kristina looked good.



guests



craig is back from england which rules! solid bro!



and life goes on!

current mood:
awake
Monday, June 16th, 2008
---
7:19 pm
- biting the hand
Wednesday, May 21st, 2008
---
5:36 pm
- heavy times.

me and k went to nyc last weekend for no fun fest. it was a lot of fun. we were staying in a hostel in the crown heights area of brooklyn. we'd take the subway everyday (cabless in nyc!) via a stop that biggy was once shot at. "celebs" seen: perez hilton, nick zinner from the yeah yeah yeahs, lindsey price(90210, lipstick jungle), and bought some jeans from leslie arfin.

hair police



statue of liberty



astro



check out photos of us and no fun fest.here

we left at around 6 sunday and our friend just told us that that night someone got shot to death right outside the building. so heavy.


put on a show for shearing pinx from vancouver. they rule. thanks for coming people!

current mood:
tired
Sunday, May 11th, 2008
---
7:20 pm
- Mark Sultan aka BBQ


the show last night ruled.

we spent the week in peterborough and hung out with ashley and robin. it was fun. you can see more photos from the week on my flickr. if you want.

tuesday theres a show at argyle with rad rat, an experimental band from halifax. check it out.

im going to nyc on tuesday overnight.

ill be back on monday in time to play with shearing pinx at argyle. come!

fucked corpse/wax attic split 12" coming out soon! pumped

current mood:
tired
Wednesday, May 7th, 2008
---
11:39 pm
- Pat in the Park
Tuesday, April 1st, 2008
---
11:38 pm
- urge.
my laptops been in the shop for the past few weeks getting gone over, so ive been a bit out of the internet.

going to montreal tomorrow with kristina tomorrow to see wolf eyes and hang out for a few days then see tyvek and monotonix. should be very much fun seeing everyone!

i did a shirt design for a show thats going to be at 135 van horne on the 5th in mtl so i should be there too! its the second on the left being worn by kwerty.

current mood:
cold
Tuesday, March 4th, 2008
---
8:53 pm
- lets go!
fucked corpse(new songs up(a while ago)) is playing in toronto this friday for the launch of jesjit's newspaper thing. here is that amazing poster he made for it. get pumped!



me and k went shopping today, it ws fun.

i got this pillow by davis khounnoraj



and this johnny cash doll by susie smith out of winnipeg(i can't find her site!)



and i picked up the 4XLP daydream nation set.




heres a photo of the tapes in my room for no reason.

current mood:
excited
Wednesday, February 27th, 2008
---
1:42 am
- uncle punk/busy nightclub
t-shirt design for an art show my friend gregory pizzoli is putting together with other awesome people like deforge and zeloot and chris kline. i'm super excited to see what eveyone comes up with.





other exciting events coming up at playing a show with think about life(third times a charm) and WAX ATTIC(oh god they are so good, no lies.) $5 tickets at end hits if you havent already grabbed one(if they aren't sold out.)poster by matt groezen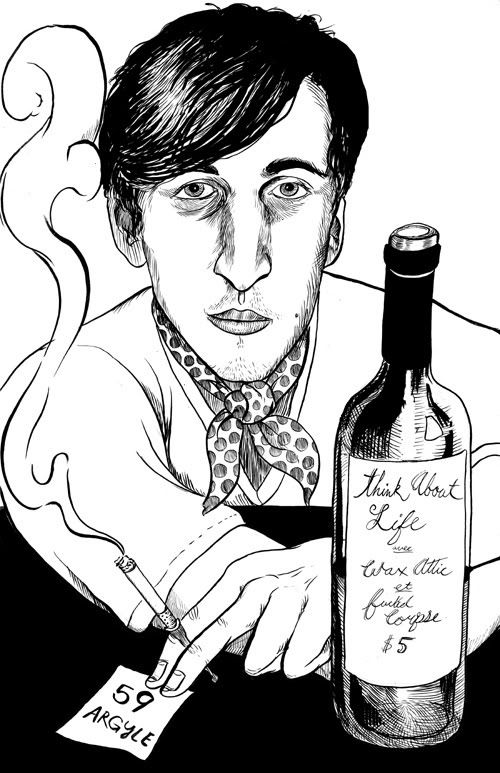 other than that my life is basically sitting around thinking right now. after getting over whatever mystery illness(the doctor never found out what it was) i'm ready for something to do! whats next!

bite them eat them.

current mood:
anxious
Monday, February 11th, 2008
---
1:43 am
- xo.
sorry i haven't been out and about the past two weeks i have been home kids. i have some weird sickness, hopefully i'll know what it is this week. being weak and arthritic and itchy all at once ain't no fun. i wanna hang.

i got one of my big wants on ebay tonight, pretty happy.

i turn 23 today.



current mood: sickly
Tuesday, January 29th, 2008
---
1:43 am
- home again.
i have returned from china and have a severe case of hives or something. no fun at all. im going to the doctor soon so hopefully it will get sorted out.

luckily i came home to a pile of records i ordered.\

heres a few photos, you can see more on my flickr.

albino pigeon make-out



grumpy cat



the bund



cool art gallery



at the jade buddah temple



pice print on the roof

current mood:
sick
Wednesday, January 16th, 2008
---
1:26 am
- i can only post to lj via flickr...sorry guys!
Sunday, January 13th, 2008
---
3:37 pm
- Chasing Me
Thursday, January 10th, 2008
---
11:47 pm
- flying
heres a few photos from my hikes. there is more on my flickr.




this is a photo of the singer from dangers. they are really good.






i'm going to china tomorrow. see you later!

current mood:
tired
Monday, January 7th, 2008
---
9:06 pm
- really amazing.

a film about karen carpenter. enacted with barbie dolls.


i walked through the rain-forest today.

current mood: wholesome